MunchingBrotato
Talk

0
91pages on
this wiki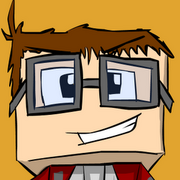 'MunchingBrotato ( Tyler Christie ) is a Canadian YouTuber who makes Minecraft videos. He can be found making many videos with mainly Sky, Deadlox, Lilshortysgs and Kkcomics. MunchingBrotato usually is in the Hunger Games on Sky's server SKGA.ME which he usually plays with Sky. He also has a server that he shares with Kyle and the designer Shelby (Kkcomics and Lilshortysgs) known as the Realmmc. Also, Lilshortysgs or Shelby is Tyler's girlfriend, based on a tweet. In Desperado, Sky says Tyler is his brother, but this is a joke. One more thing to note is his bunch of nicknames here are a few:
Retard (by ASFJerome)
Tato (by Sky)
MunchingBrotata (by Sky)
Big Dummy (by Kyle)
Brotato is also very popular by TeamCrafted.
In Late February of 2014, Sky put MunchingBrotato, BigBadManPig, KKComics and House-Owner on his friend list, along with Team Crafted. This may prove that Tyler, Kyle, HouseOwner and BigBadmanpig are now members but not part of the main team, very similar to BlueMonkey and Weedlion. To make this more confusing, Sky never revealed they are members nor allies.
Alternate Personalites
He is known for having a different personality entirely called "Janet" or "Auntie Janet", Janet does many things that most people would not expect an older Auntie to do.The way he talks is gruff when doing her voice, and her personality includes being a whore, smoking various things, having children (whom she often abuses and beats), living in New Jersey, and having an old lady appearance with gray hair, wrinkled skin, and wearing a pink dress (or nightgown). Janet originated from a "Drama" AKA acting class that Tyler once took.
Tyler also has a lesser-known personality, who is Mexican and goes by the name of MunchingBurrito. Not much is known about him.
Appearance and Personality
Edit
Tyler is seen with short brown hair, he has black/grey glasses and usually wears his red striped shirt or his grey jacket, He has blue eyes and pale white skin. In case you were wondering, his birthday is October 14, 1995.