Ad blocker interference detected!
Wikia is a free-to-use site that makes money from advertising. We have a modified experience for viewers using ad blockers

Wikia is not accessible if you've made further modifications. Remove the custom ad blocker rule(s) and the page will load as expected.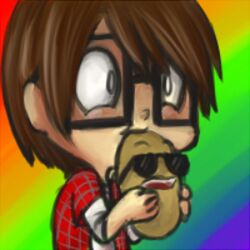 MunchingBrotato (Real Name: Tyler Christie) is a Canadian YouTuber that makes Minecraft videos, and a friend of Team Crafted. While he's not a member of Team Crafted, he can be found making many videos, most with Sky or Deadlox. (and Swift)
Appearance and Personal Life
Edit
Tyler has brown hair, wears black glasses, and a red flannel shirt. with a white shirt underneath. He has light blue eyes. He was born on the 14th of October, 1995, and his zodiac sign is Libra. He's admitted to having bad anxiety in some of his videos.
HistoryAt the age of about 6 or so, Tyler took a huge dump in an isle in Walmart, saying it was due to being sick. It has been confirmed by Tyler himself in a gameplay video of Minecraft Hunger Games (https://www.youtube.com/watch?v=D5UBkK3qUuM). He was not caught in the act while pooping at this unknown Walmart.
After he was done he said duck you janitor. You like that.
Residence
Edit
Munchingbrotato resides in Cape Breton, Novia Scotia, Canada with his girlfriend next door. His residence in the province of Nova Scotia has been noted on his Twitter. The fact that he lives on Cape Breton Island specifically has been found on his vine. Also on his twitter, a post where licence plates can be found. They are N.S plates, thus legitimizing his Nova Scotia residence even further. (The tweet that had the plates: https://twitter.com/MunchingBrotato/status/433660380712558592 ) In this tweet he states that he is at his "local grocery store parking lot". After close inspection, you can find a "Mr.Tire" store in the background. The biggest city in Cape Breton is Sydney. If you go on Google Maps and search for a Mr. Tire in Sydney, you will find just one. It is, in fact, right across the street from a Sobeys. (A grocery store.) (Look for yourself: https://www.google.ca/maps/place/Mr+Tire+Ltd-Alliance+Tire+Professionals/@46.1393981,-60.1877803,17z/data=!4m2!3m1!1s0x4b67fb33e217401d:0xa5c1f649ad1c1f9f )
This means that Tyler lives in Sydney, N.S. (He has accidentally said this in a live stream before, its not some big mystery.)