MunchingBrotato
Talk

0
110pages on
this wiki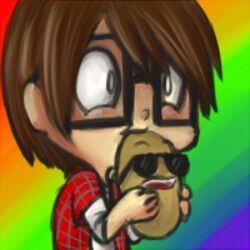 MunchingBrotato (Real Name Tyler Christie) is a Canadian YouTuber that makes Minecraft videos, and a friend of Team Crafted. While he's not a member of Team Crafted, he can be found making many videos, most with Sky or Deadlox.
Alternate Personalities
Edit
He is known for having a different personality entirely called Janet or Auntie Janet. Janet does many things that most people would not expect an older Auntie to do. The way he talks is gruff when doing her voice, and her personality includes smoking various things, having children (whom she often abuses and beats), living in New Jersey, and having an old lady appearance with gray hair, wrinkled skin, and wearing a pink dress (or nightgown). Janet originated from a Drama AKA acting class that Tyler once took.
Tyler also has a lesser-known personality, who is Mexican and goes by the name of MunchingBurrito and not much is known about him, although he is seen in his video Who is MunchingBrotato?. He appears with an sombrero, poncho and a lead with a donkey. He is also in the damnit
eginning of the Janet does Survival Games episode. He also has a bad memory with kids who never invited him to play tag and speaks with a Mexican (respective Spanish) accent.
Appearance and Personality
Edit
Tyler is seen with short brown hair, he has black glasses and usually wears his red striped shirt. He has soft blue eyes, he turned 18 on the 10/14/13 so therefore he was born on the 14th of October 1995 and his star sign or zodiac sign is Libra. He's admitted to having bad anxiety in some of his videos.
At the age of 6
Tyler took a huge shit in the medical section in Waaaalmart, saying it was due to being sick. It has been confirmed by Tyler himself in a video of hunger games (https://www.youtube.com/watch?v=D5UBkK3qUuM). He was not caught in the act while pooping at this unknown walmart. Unfortunately.
Residence
Munchingbrotato resides in ******, Canada. As seen in one of his Instagram posts.