MODDED COPS N ROBERS! PAINT BALL! is a video of modded Cops N Robers mini-game. It is uploaded on March 27, 2014 in SkyDoesMinecraft's profile and it is long 16:30 minutes.
Thumbnail
Edit
The players are SkyDoesMinecraft, BigBadManPig, Munchingbrotato, Bashurverse and Gizzy14gazza.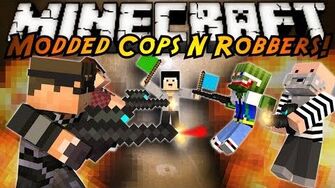 Description
Edit
THE ENTIRE PRISON HAS BEEN WARPED INTO A BATTLE ZONE! EQUIP YOUR PAINTBALL MASK AND ARMOR, LAST ONE STANDING ESCAPES!
Ad blocker interference detected!
Wikia is a free-to-use site that makes money from advertising. We have a modified experience for viewers using ad blockers

Wikia is not accessible if you've made further modifications. Remove the custom ad blocker rule(s) and the page will load as expected.