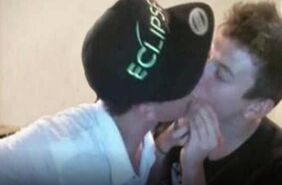 Merome
is the ship of
JeromeASF
and
BajanCanadian
. It is popular on Tumblr, Instagram, Twitter, Facebook, and YouTube.
Merome or ASFCanadian is pretty much the most popular fanship among Team Crafted and other Minecraft Youtubers (other examples being Sparkant, Skylox [probably the second most popular], and Trulox, among others). Almost every fan of TeamCrafted knows of Merome and the guys refrence it in many videos, including their Pixelmon series.
Ian said in a tweet on Twitter "#Merome for DAYYYSSSSSS" then mentioned Mitch and Jerome, followed by a fake picture of them kissing.
Despite not being in a relationship, as both Mitch and Jerome has a girlfriend, both men accept the fans shipping them, even going as far as joking about it. Merome is almost always typed as #Merome due to its popularity on Twitter and Instagram.
Mitch announced in a livestream that a Merome music video is underway, using the song Moondust by Jaymes Young.
On December 17th of 2014, Mitch released the parody of Moondust.