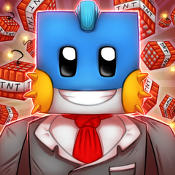 Quentin Juneau known on YouTube as HuskyMudkipz (Also known as The Fish or the Mudkip) is a Canadian YouTuber that primarily plays Minecraft minigames and mod showcases. Quentin has a skin based on the pokemon Mudkip and repeatedly has to remind people he is an "amphibian". He has recently hit 1,000,000 subscribers, hitting one million "Kipper Flippers" on the 23rd of July, 2013. He is famous for doing Minecraft Hunger Games all the time, along with mod showcases and minigames. His friends that he plays Minecraft with a lot are: JeromeASF, BajanCanadian, Bodil40, Mod11101, and more. 
Quentin also is dating a British YouTuber named Vengelfe, Annie. His friends and his fans, keep calling him a fish, though he repeatedly responds that he's an amphibian, except the Pokémon, Mudkip, is correctly identified as a fish Pokémon, hence its Pokedex entries call it the Mud 'Fish 'Pokemon.
He likes to mess around with TNT, as noted during his "SaturDaymolition" series.
After he loses a mini-game, as a spectator, he likes to put on a chain chestplate, and drink a potion of invisibility. It makes him seem completely invisible, despite the chestplate, which is what he calls the "Spooky Boobs!".
He likes Christopher Nolan's Batman trilogy, most notably The Dark Knight Rises with his favourite character being the villain Bane played by Tom Hardy. This is evidenced by him mimicing Bane in a Cops and Robbers episode where he played with Deadlox, Jason, JeromeASF and BajanCanadian.
Skin design
Edit

Quentin's skin is based off of a Mudkip, a creature from the
Pokémon
 franchise. It can also feature him wearing a grey tuxedo and a red tie, a black tux and red tie, a Pokémon trainer uniform, or The Doctor's suit. (10th is his fave)
Notable quotes
Edit
Do do doo! Hey guys, what's up? It's Quentin aka HuskyMudkipz here! (Intro)
BUTTS!

You buttcrack/hole!

VengeKipz!
Movieee Magic!
God freaking damned buttbiscuits!
Spooky boobs!
I'm not a fish, I'm an amphibian!
#Not a Fish
Slap that like button with your little Kipper Flipper
Ad blocker interference detected!
Wikia is a free-to-use site that makes money from advertising. We have a modified experience for viewers using ad blockers

Wikia is not accessible if you've made further modifications. Remove the custom ad blocker rule(s) and the page will load as expected.