'
Double
(Real Name Ryan Klepacs) is a Canadian commentator who appeared in 3 of Team Crafted videos, the first being spleef with HuskyMudkipz,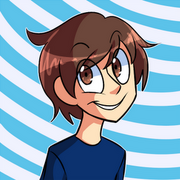 SkyDoesMinecraft and iJevin, the second time being Sky's 1,000,000 subscriber video, and finally a short parkour map with Husky. His Minecraft username is Mr360Games.
He lives in Canada
He is an expert on the Aether Mod and it's sequel, but still manages to be pretty bad at it.
He calls his subscribers Doublings.

His favorite hockey team is the Buffalo Sabres of the NHL.

His Minecraft skin was made by his ex-fiancee Natalie.

His Xbox Live username is Dbl Trbl 777 and his PSN is Mr_360Games.

He usually plays with ClashJTM, Bodil40 and TheCampingTree (Sp00nerism).

One of the first people he played with was ClashJTM and ChimneySwift11.

Is currently playing in a Minecraft Gameshow called "The Showdown!" by ZexyZek.

Double currently has 680,224 subscribers

Joined YouTube July 4, 2009.
Ad blocker interference detected!
Wikia is a free-to-use site that makes money from advertising. We have a modified experience for viewers using ad blockers

Wikia is not accessible if you've made further modifications. Remove the custom ad blocker rule(s) and the page will load as expected.