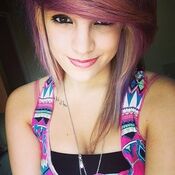 Ashley Mariee Surcombe, known as AshleyMarieeGaming on YouTube, is a 19 year-old British video-game commentator. She uploaded her first YouTube video on September 10th, 2005
was a Minecraft video. As of June 2015, she has about 550,000 subscribers on her channel. Ashley has two sisters and is a twin. She is also has over 410,000 followers on Instagram, and over 200,000 followers on twitter. Her content consists of Mod Showcases, Hunger Games, Mini Games, and Let's Plays. Although she is known for Minecraft gameplay, she has uploaded a few videos of gameplay from other games, like Dishornored and Portal 2. She wasn't a member of TeamCrafted,and although she did often record videos with the group when they were still together, and she still records videos today with some of the former members, most notably Jerome (JeromeASF), Ryan (xRpMx13), and Mitch .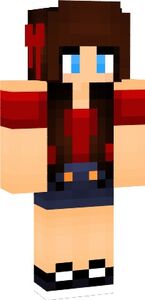 Her in-game skin is a girl with brown hair and blue eyes. Her skin wears a red T-shirt with open shoulders and jean shorts and black converse. The most notably feature on the skin is with the two red bows on the side of her hair. In one of her Minecraft Marriage videos, she joked that the only reason she plays Minecraft, is because of this skin.
Her full name is Ashley Marie Surcombe
She lived in Bude, Cornwall and also lived in Harrogate, North Yorkshire. She has only spent 7 years in Cheltenham. Her family moved back to Bude shortly after Ashley and her sister were born, but moved to Cyprus once again in 2001 when Ashley was five.
She often says she'd rather live in the United States.
Her favorite color is red.
Her favorite animal is a Penguin.
She is currently single.
She loves to sing.
Social Sites
Edit
https://www.youtube.com/user/AshleyMarieeGaming
https://twitter.com/AshleeeyMaarie
https://instagram.com/ashleymarieegaming
https://ashleymarieegaming.tumblr.com