AshleyMarieeGaming
Talk

0
105pages on
this wiki
Ashley Marie Surcombe, known as AshleyMarieeGaming on YouTube, is a 18 year old British video-game commentator with 380,000 subscribers on YouTube as of July. Ashley has two sisters, and is a twin. She also has over 177,000 followers on Instagram, and 119,000 on twitter. Her content consists of Mod Showcases, Hunger Games, Mini Games, and Let's Plays.  around 100k followers on Instagram and on Twitter. She currently resides in Cheltenham, England. She isn't a member of TeamCrafted, instead is friends with three members, most notably Mitch, Jerome, and Ryan.
Her in-game skin is a girl with brown hair and blue eyes. Her skin bears a red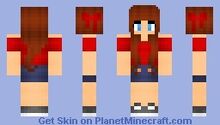 T-shirt with open shoulders and jean shorts. The most notably feature on the skin is with the two red bows on the side of her hair.
Her full name is Ashley Marie Surcombe
She's from Cyprus, but has spent much of her life in Cheltenham, England, but often says she'd rather live in America.
Her favorite color is red.
Her two closest friends in TeamCrafted are TheBajanCanadian, and JeromeASF
Her favorite animal is a Penguin
Her nickname so Poofy
Has no Bf at the moment
Loves to sing
#Milkypoof
Poofy
Social Sites
Edit
https://www.youtube.com/user/AshleyMarieeGaming
https://twitter.com/AshleeeyMaarie
https://instagram.com/ashleymarieegaming
https://ashleymarieegaming.tumblr.com