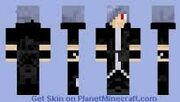 Ethan
, or his username
5m
, was a large part of Sky's early channel.  Ethan was one of the first players for Sky to play with.  He was also the first in a group of 3 to join "Sky's Army", or the group that would later be known as
Team Crafted
.  The others that joined with him were
Minecraft Universe
and
Dawnables
.  Ethan never had a channel to coincide, he just played with Sky.  Ethan also never bought a microphone for unknown reasons, leaving him with the inability to speak to Sky or anyone else he was playing with.  This lead to Sky constantly making the joke, "Dangit Ethan your screaming so loud!  I can't hear anything!"  Ethan is best known for his apperances in the
Lava Survival Island series
and the
Project Cronos adventure map
.  On October 16th, 2012 the next episode of a survival games series came out, where Ethan usually cohosted alongside Dawn and with a special guest. However, Sky announced Ethan had gone into the navy, and introduced the new cohost of the series,
deadlox
. Ethan has not been seen since on Sky's channel, and Sky has not mentioned him since. It is interesting to note in a more recent video,
Jerome
suddenly stopped talking and
Sky started yelled at him for being so loud
, referencing Ethan. He has returned from the military as shown through his new Yt with his friend Ddeathreaper called 
FlexaCraft
.
Ad blocker interference detected!
Wikia is a free-to-use site that makes money from advertising. We have a modified experience for viewers using ad blockers

Wikia is not accessible if you've made further modifications. Remove the custom ad blocker rule(s) and the page will load as expected.